"Ripe Fruit School of Creative Writing is the only writing program in the San Francisco Bay Area that offers a progressive, step-by-step series of workshops and classes for beginning and emerging writers. Students who follow the path of growth graduate with the confidence and competence to take on any writing project. "
Ripe Fruit's effective and innovative curriculum is designed and taught by master teacher, writer, and imagination activist, Leslie Kirk Campbell, who is passionately committed to the development of writers in every genre and at all levels. She has provided encouragement, stimulation, and training to over 6000 professional and aspiring writers since 1991.
Course Descriptions       What Makes Ripefruit Unique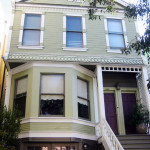 THE GREENHOUSE OF THE IMAGINATION is located in a beautiful Edwardian setting in safe, quiet NOE VALLEY, San Francisco with convenient parking and public transportation.